VIDEO INSPECTION
Have you guessed your equipment condition before
and had lengthy down time for equipment disassembly
just to find you could have operated for
another x-amount of months ? ? ?

Analyzing vibration frequencies and other technology allows us to safely increase the operating time for your equipment

Within a two hour time frame we are able to give you a precise condition report of your centrifuge.

Still images collected from the video inspection
are analyzed and included in a service report.


The images will be used as a reference during
future inspections and allow to build a
wear history of your equipment.


Based on the findings we recommend to
monitor or schedule a rebuild.

Parts can be ordered before the centrifuge is placed
off-line which reduces downtime.

No extended down time or disassembly of the
centrifuge is necessary for the inspection.
 
Damage to a accelerator carbide section. The only item found during the inspection. The section was monitored
and a repair scheduled 90 days later.
                                                   

      Wear on a feed nozzle inlet. The centrifuge was inspected on quarterly base and operating safely
increased to 2 years between rebuilds.


 
The image of an accelerator
                                                                                                                               

A damaged feed nozzle was replaced to prevent damage to the conveyor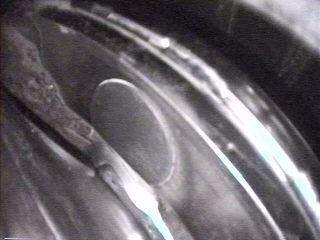 The image of a feed cone insert.